Colloidal oatmeal is a product that is gaining popularity in skin care. Because of its benefits, colloidal oatmeal is very suitable for treating some skin conditions.
The benefits of colloidal oatmeal and how to use it
Colloidal oatmeal is a product that is gaining popularity in skin care. Because of its benefits, colloidal oatmeal is very suitable for treating some skin conditions.
The benefits of colloidal oatmeal and how to use it

Colloidal oatmeal is a popular natural ingredient because it has many benefits for skin health. Oatmeal is a sedative and is regulated by the Food and Drug Administration (FDA) due to its pharmacological use, according to an article published in the Journal of Skin Pharmacy. In fact, this product can be easily used in various forms such as bath powder, shampoo, shaving cream, and lotion. So, what are the benefits of colloidal oatmeal and how do people usually use it?
What is colloidal oatmeal?
Colloidal oatmeal is made by grinding oat whole grains (Avena sativa) into a fine powder. Today, the cosmetics business uses this product in a wide range of formulas for personal health. This is especially true for skincare products.
Research published in clinical, cosmetic and experimental dermatology explains that colloidal oatmeal has a complex chemical composition and is composed of polysaccharides, lipids, proteins, flavonoids, vitamins and minerals. In addition, consumers appreciate this material for its moisturizing ability, anti-inflammatory and antioxidant properties.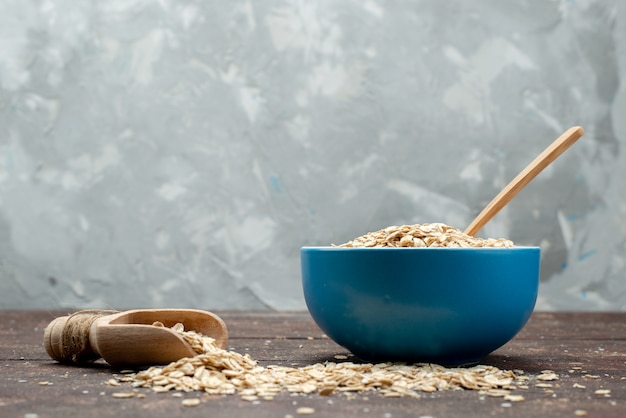 The benefits of colloidal oatmeal and how to use it

The dermatological use of colloidal oatmeal has been supported by numerous scientific studies.

Benefits of colloidal oatmeal

The nutritional content of oats offers consumers a variety of health benefits, especially when treating skin conditions. Colloidal oatmeal's anti-inflammatory and softening properties help repair damaged skin and soothe some ailments, such as:
rash

Skin stains

Itching and eczema

Dry skin

Atopic dermatitis

burn

Diaper rash

The emollient found in oats makes the skin soft and moisturized, which helps relieve itching and peeling. Of course, there are many natural products that can help with skin problems. However, many people opt for oatmeal because it can be used for all skin types.

Studies have shown that colloidal oatmeal can be used to control the severe symptoms of dryness and extremely dry skin . This treatment is safe, tolerable, and can reduce the use of topical cortisone steroids, thus avoiding potentially uncomfortable side effects.

Now we must make it clear that colloidal oatmeal is not the first line of defense against skin problems. For severe and severe burns, acne, or dermatitis, you should always see a dermatologist for other treatments. Oat products are often used in combination with other medications to relieve skin discomfort.

Read more: Causes of Dry Skin

How to use colloidal oatmeal
The most common way to use colloidal oatmeal is to take an oat bath by mixing a fine powder with bath water.

However, as previously mentioned

, it can also be used in oatmeal gels, lotions, plasters and a variety of other products.

Follow the instructions on the packaging carefully and consult your doctor and pharmacist if you have any problems. If necessary, apply colloidal oatmeal lotion to the problem area. If you have dry hands, we recommend applying lotion every time you wash your hands.

Likewise, when using oatmeal plasters or lotions to treat diaper rash , always wash and dry the area properly before application. It is wise to be careful and avoid applying plasters or creams to sensitive areas such as around the eyes, mouth and nose, and genitals . It should not be used on broken, cracked or scratched skin.

safety

Colloidal oatmeal is safe for most people . In fact, there are no recorded cases of side effects after use today.

However, if you are allergic to oatmeal or are sensitive to products made from oatmeal, we recommend that you do not use oatmeal products to treat skin problems. If the itching worsens or a rash develops after using colloidal oatmeal, all use should be discontinued.

How to Make Colloidal Oatmeal at Home

It is certainly convenient to buy ready-made colloidal oatmeal in the store, but you can make it at home with a few simple steps. The final product is ideal for putting in bath water or making a natural mask .

Necessary material

1/2 cup (125 g) whole oats

Food processor or blender

how to make

To begin, put raw whole oats in a food processor or blender.

Grind the oats until they become soft and fine powder.

When the powder is finely ground, add a small amount of water.

When the water turns milky, you have homemade colloidal oatmeal powder.

You can prepare this mixture to put colloidal oatmeal in your bath water or apply as a face mask.

Read more: Weekly diet for weight loss

Colloidal oatmeal soothes the skin
There are many reasons to add colloidal oatmeal to your skin care routine. It is a gentle material that can be used even by people with the most sensitive skin, and its ingredients help protect skin and control dryness.

The most interesting thing about colloidal oatmeal is that it can be used in a variety of forms and can be easily prepared at home with whole oats. What do you think? If you have any questions or concerns, talk to your dermatologist.